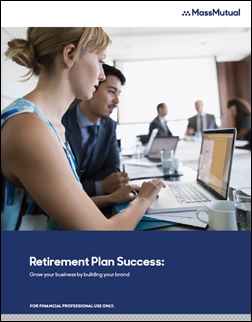 Retirement Plan Success: Grow Your Business By Building Your Brand
Build a thriving retirement plan practice in a way that creates value and inspires clients to take action.
The answer to two questions could be the key to unlocking your potential: Why are some retirement plan advisors more successful than others? How do they consistently generate new business when relatively few plans change recordkeepers in any given year?
As you look to generate and sustain new business, you know a comprehensive, multi-channel strategy can work. But it's hard to build awareness and drive engagement while also trying to build lasting relationships. You need a mix of marketing tactics that will enable, educate, and excite clients as they consider options for retirement and shorten your sales cycle.
Download this white paper now for ideas and a task list to help you build awareness and trust, ensuring that every conversation with prospects and clients counts. You will discover:
Specific tips for prospecting successfully, including identifying ideal clients and how to broaden your reach
Why targeting "hot spots"and leveraging your expertise to educate potential clients is critical
Ways to drive engagement by becoming a problem solver and staying ahead of the curve
And more…
Learn how you can achieve your goals by connecting with prospects and clients over time, allowing them to see you as a valued resource and partner. Get your game plan for an inspired marketing strategy now!
Offered Free by: MassMutual