In the bustling realm of digital marketing, the ultimate cornerstone is achieving maximum engagement with your target audience, thereby boosting your business. It's no longer competent to rely solely on conventional marketing strategies; unleashing the power of behavioral trigger is the key to uplifting your marketing efforts and enhancing the efficacy of your campaigns.
In this article, we'll delve into the comprehensive details of behavioral trigger. Furthermore, we'll also walk you through the essential tools and platforms that can help you endow behavioral trigger, driving your marketing efforts to the next level. Without any ado, let's get started.
Unleashing the Power of Behavioral Trigger
Behavioral trigger refer to the events or actions performed by the potential customer, with an intent of purchase. It embodies all the user interactions with your digital assets – whether it's your mobile app, website, or other promotional activities. Based on this behavior, further marketing objective is planned to increase the chances of conversions.
The behavioral trigger are the key to enhancing your marketing campaigns in several ways:
Focuses on Relevancy and Apt Timings
By understanding and leveraging behavioral trigger, you can ensure that your campaigns are tailored to the right audience, with the personalized, in short, right message at the right time. This signifies that your marketing efforts reflect your audience's current needs and preferences, increasing engagement and your ultimate business objective.
Streamlining the Revenue Generation Process
Behavioral trigger allow you to streamline your revenue generation efforts immensely by automating responses to user activities. For instance, when a user interacts with your website or application, you can trigger automated responses that guide them through the desired actions, saving them time and effort.
Customizing Campaigns
Users prefer and respond quickly to customized marketing campaigns. Implementing behavioral trigger enables you to customize marketing campaigns for individual users. This level of personalization touch stands as a powerful tool for increasing engagement and conversion rates.
Boosting Brand Visibility & Identity
Behavioral trigger can help boost your brand's visibility and recognition. By providing enthusiastic users with relevant content or offers at the right time, you can build a strong brand image and reputation in the market.
Driving Sales and Conversions
Undoubtedly, behavioral trigger play a vital role in driving leads, conversions, and sales. By perfecting the art of customized messages and content based on user behavior, there are sure shot chances of users taking the desired actions. Forex: Making a purchase, signing up for a course, or any other action with the intent of driving sales.
More About Behavioral Trigger
Behavioral trigger are the automated responses to user activities. They play a pivotal role in marketing campaigns, particularly in guiding users along their customer journey.
For instance, when a user interacts with a prominent call-to-action, such as "Schedule A Demo," a behavioral trigger is initiated. This trigger then automates the process of sending an email outlining the required steps in the procedure.
The point is the automation of behavioral trigger is truly a game-changer. It saves valuable time and resources that would have been spent on manually sending communications to consumers. This is an added benefit for triggers that occur after a customer responds to a call to action, such as notifications of successful payments or reminders to complete a cart transaction.
Behavioral Trigger: The Doorway to Success
Understanding user behavior is the cornerstone of a successful marketing automation plan. This begins with identifying users and moves on to determining their behavioral trigger.
By doing so, you can target consumers who show initial interest in your products and services. Start by sending highly personalized messages that resonate with their needs, resulting in grabbing attention and interest.
Imagine sending personalized emails to people with interest in your product or service. This strategy aligns perfectly with using behavioral trigger in marketing initiatives.
Users who have visited a product landing page, for instance, may receive an email reminding them of the product's benefits or the latest offers. Those who have opened an email can be encouraged with the same. In short, behavioral trigger are meant to send the right messages to the right people at the precise time.
How to Implement Behavioral Trigger in Your Marketing Campaign?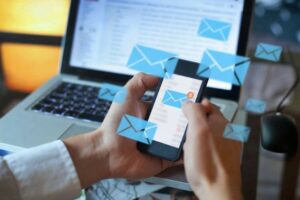 We have covered everything related to behavioral trigger. However, now let's explore their effective implementation in your marketing campaign. We'll take you on a journey through a fictitious lead nurturing campaign, showcasing how behavioral trigger work.
Behavioral Trigger: Establishing Principal Touchpoints
The first step is creating a well-thought-out outreach plan that unfolds a coherent story over time. Emails, SMS text messaging, and other marketing strategies can be seamlessly integrated into the campaign. Planning these touchpoints involves a deep understanding of which behavioral trigger should be activated and precisely when depending on certain user behaviors.
Behavioral Trigger: Educational Content Email
Begin the campaign with an email that provides relevant, instructional facts about your industry. This content should be designed to establish trust and position your brand as an authority in the industry.
Behavioral Trigger: Follow-Up Educational Content Email
After the initial outreach, send the second email with more educational content, such as a blog post. This will help to strengthen the trust you've already established and reinforce your brand's position further.
Case Study Email
Try to include a case study in your email, showcasing the success of another company with your innovative strategies and solutions. how another company benefited significantly from using your solution. This allows leads to envision themselves benefiting from your offer in a similar situation.
Demo Video Email
Sharing a demo video within an email is greatly beneficial. It allows the leads to see your products in action.
New Customer Deal Email
Send out an email announcing a one-time, special deal to attract new customers.
Free Consultation Invite Email
End the campaign with an email inviting the lead to a personalized consultation. Create a playground to discuss their individual needs and how your product can help.
One of the crucial parts is, to make sure to include a clear call-to-action (CTA) to provide leads with a groundbreaking opportunity to interact with your business and encourage them to move closer to conversion.
This fictional lead nurturing campaign demonstrates how behavioral can be strategically incorporated to guide potential leads toward conversion while simultaneously fostering trust and interest in your company and its offerings.
Utilizing Lead Scoring for Behavioral Trigger
Lead scoring is a critical component in marketing automation, as it awards points to leads for specific behaviors they showcase. There are a range of user's behaviors that includes, opening emails, downloading content, clicking on a particular link, downloading content or taking other desired actions.
Lead scoring serves as a great medium in determining the lead's level of involvement and readiness for a sales contact. Incorporating a behavioral into your marketing workflow simplifies and enhances the lead-scoring process.
Besides, effective lead nurturing also involves dealing with disengagement situations. In such cases, leads do not respond to your emails as expected, even after they receive the relevant promotional content.
To address this, using trigger to automate the process of moving a lead to the next email in the series if they engage with the material in the first email. If no engagement is observed, you should keep sending weekly emails until a good CTR is noted.
When a lead reaches a marketing qualification status, it's crucial to alert the sales team promptly. Behavioral are instrumental in this phase, as they can automatically notify the sales team when a lead meets the criteria for potential sales.
In a nutshell, a successful marketing strategy requires not only effective handling of engagement but also disengagement situations, and behavioral  plays a vital role in both scenarios. Implement behavioral trigger in your marketing strategy and experience a boost in your business.
You may also like to read:
What Will Be The Effect Of Quantum Computing On Blockchain?
Harnessing the Power of Behavioral Triggers: Tools and Platforms