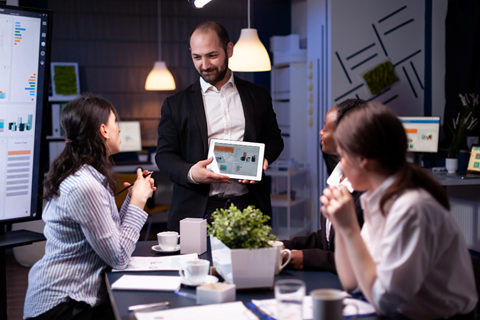 Without a doubt, keen understanding and leveraging of user behavior is critical for driving successful marketing campaigns. This strategy urges us to build a deeper connection with the prospective customers. Behavioral triggers are basically the actions that prompt specific responses based on user behavior.
In this blog, let's dive through the key tools and platforms to help you successfully implement behavioral triggers and ace your marketing strategy.
Tools & Platforms for Implementing Behavioral Triggers
Customer Relationship Management (CRM) Software

CRM software, the most used platform, is the foundation of any successful behavioral trigger-based marketing strategy. Well-known platforms like HubSpot, Zoho CRM, and Salesforce are supercharged with integrations that serve as all-in-one hubs for collecting, fostering collaboration and analyzing customer data.

These platforms are essential for implementing behavioral triggers in the following ways:
Data Centralization: CRM systems are the central hub of your customer data. It gathers data from various touchpoints, including website interactions, email campaigns, social media engagement, and more. Precisely, this centralized data repository provides a 360-degree view of every customer.
Insights Based on Behavior: Get real-time robust analytics and reporting features to help you gain a deeper understanding of customer behavior. Furthermore, you can simply track their interactions, purchase history, preferences, and other engagement patterns.
Segmentation: CRM software enables the segmentation of customers. It creates a high-value customer segment, allowing you to categorize your audience based on their behavior, demographics, locations and various other parameters.
Art of Personalization: The solid strategy is personalization to lead the way in the competitive landscape. With CRM software, you can personalize your marketing efforts by sending tailored messages and offers for specific segments. This boosts engagement and drives conversions at a rapid pace.
Automation of Workflows: Most CRM systems include automation features for setting up behavior-triggered workflows. For example, if a customer leaves the cart on your website, the CRM system can automatically send a follow-up email with the abandoned items.
Marketing Automation Platforms
Using marketing automation platforms like Mailchimp, Marketo, Pardot and more ensures that behavior-based triggers are executed seamlessly. They incorporate a particular procedure and features in place, enabling you to perform your marketing tasks more effectively.
Below are the key features it offers:
Build Valuable Relationships: Develop trust among the customers at every stage by using automated workflows. This also ensures no opportunities slip down and fosters a solid relationship with the customers, encouraging them to purchase your products or services.
Behavioral Triggers: Marketing automation platforms make it easy to design automated workflows specifically initiated by user behaviors. For example, you can send customized follow-up emails to subscribers who opened a particular email but didn't make a purchase.
Lead Nurturing: These platforms enforce effective lead nurturing by keeping track of the user activity, thereby prompting you to offer relevant deals and content at the right point in a prospect's journey.
Multi-Channel Integration: Marketing automation platforms facilitate smooth integration across a multitude of channels. It ensures that behavioral triggers work consistently across your digital ecosystem.
Wrapping it Up
It can be clearly said that leveraging the power of CRM software and marketing automation platforms, can be a gateway to implementing the behavioral triggers more effectively. Behavioral triggers are the turning point in the world of digital marketing. Integrating them into your marketing efforts can help you stay ahead of the competitive landscape. So, as you embark on your journey to skyrocket marketing engagement, make sure to leverage the incredible potential of behavioral triggers.
Also Read:
Top Device Management Functions and Techniques
Choosing the Best Call Tracking Software – Features and Benefits