Gartner Report: Innovation Insight for Observability:
The evolution of monitoring and its impact on your business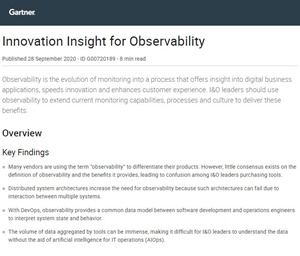 Technology environments are rapidly evolving across organizations as they look to remain competitive, accelerate innovation and generally make themselves more agile. But in the process, many are falling behind in being able to monitor and manage new cloud-native apps and multicloud environments and the complexity that comes with them.
Download Gartner's Innovation Insight for Observability report to learn about the importance of true end-to-end visibility and recommendations for achieving it, including:


The importance of a truly open source solution and approach
Applying pragmatic observability to digital business
And increase application uptime by design
Gartner, Innovation Insight for Observability, Padraig Byrne, Josh Chessman, 28 September 2020
GARTNER is a registered trademark and service mark of Gartner Inc. and/or its affiliates in the U.S. and internationally, and is used herin with permission. All rights reserved.