Exclusive Video: Operationalizing AI and Cloud at Scale: Moving Enterprise to an AI Operating System (AI:OS), With EXL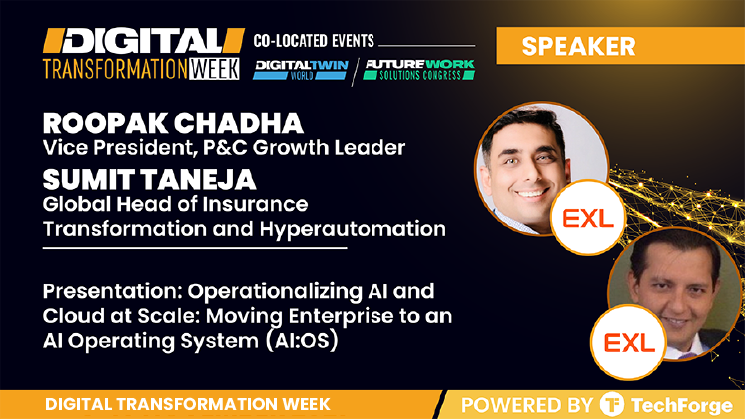 Complete the from to the right to access this exclusive on-demand video with EXL, powered by Cloud Tech News, part of Digital Transformation Week
ABOUT THIS VIDEO
In today's digital world, speed is the only sustainable differentiator. Integrating data-driven technologies like AI, Analytics, and the Cloud into an enterprise's operations is critical for disruptive differentiation. Join us for real-world stories around enterprises that are redesigning their operating model to align with the new requirements of the AI Operating system (AI: OS).
Convert real-world signals into clean operational data leveraging upstream AI solutions
Redesign operations by code and embed analytics into operational data flows for greater intelligence
Elevating the role of humans in AI/Cloud native operations
ABOUT THE SPEAKERS
| | Roopak Chadha, Vice President, P&C Growth Leader, EXL |
| --- | --- |
| | Sumit Taneja, Global Head of Insurance Transformation and Hyperautomation, EXL |
Complete the form to the right to access this exclusive video for free!

This video is brought to you by Cloud Tech News in partnership with Digital Transformation Week; a free virtual event exploring DTX strategies for making your digital efforts a success. Head over to the website to explore the next free editions taking place virtually and in-person throughout 2021-22.