Electronic Signatures Accelerate Business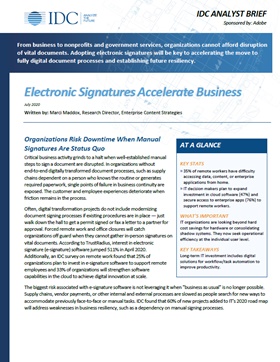 From business to nonprofits and government services, organizations cannot afford disruption of vital documents. Adopting electronic signatures will be key to accelerating the move to fully digital document processes and establishing future resiliency.
The biggest risk associated with e-signature software is not leveraging it when "business as usual" is no longer possible. Supply chains, vendor payments, or other internal and external processes are slowed as people search for new ways to accommodate previously face-to-face or manual tasks. IDC found that 60% of new projects added to IT's 2020 road map will address weaknesses in business resiliency, such as a dependency on manual signing processes.