Adobe Experience Platform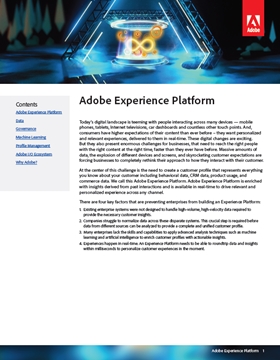 Today's digital landscape is teeming with people interacting across many devices — mobile phones, tablets, Internet televisions, car dashboards and countless other touch points. And, consumers have higher expectations of their content than ever before – they want personalized and relevant experiences, delivered to them in real-time. These digital changes are exciting. But they also present enormous challenges for businesses, that need to reach the right people with the right content at the right time, faster than they ever have before. Massive amounts of data, the explosion of different devices and screens, and skyrocketing customer expectations are forcing businesses to completely rethink their approach to how they interact with their customer.
At the center of this challenge is the need to create a customer profile that represents everything you know about your customer including behavioral data, CRM data, product usage, and commerce data. We call this Adobe Experience Platform. Adobe Experience Platform is enriched with insights derived from past interactions and is available in real-time to drive relevant and personalized experience across any channel.