The Road to Compliant Auto Loan Servicing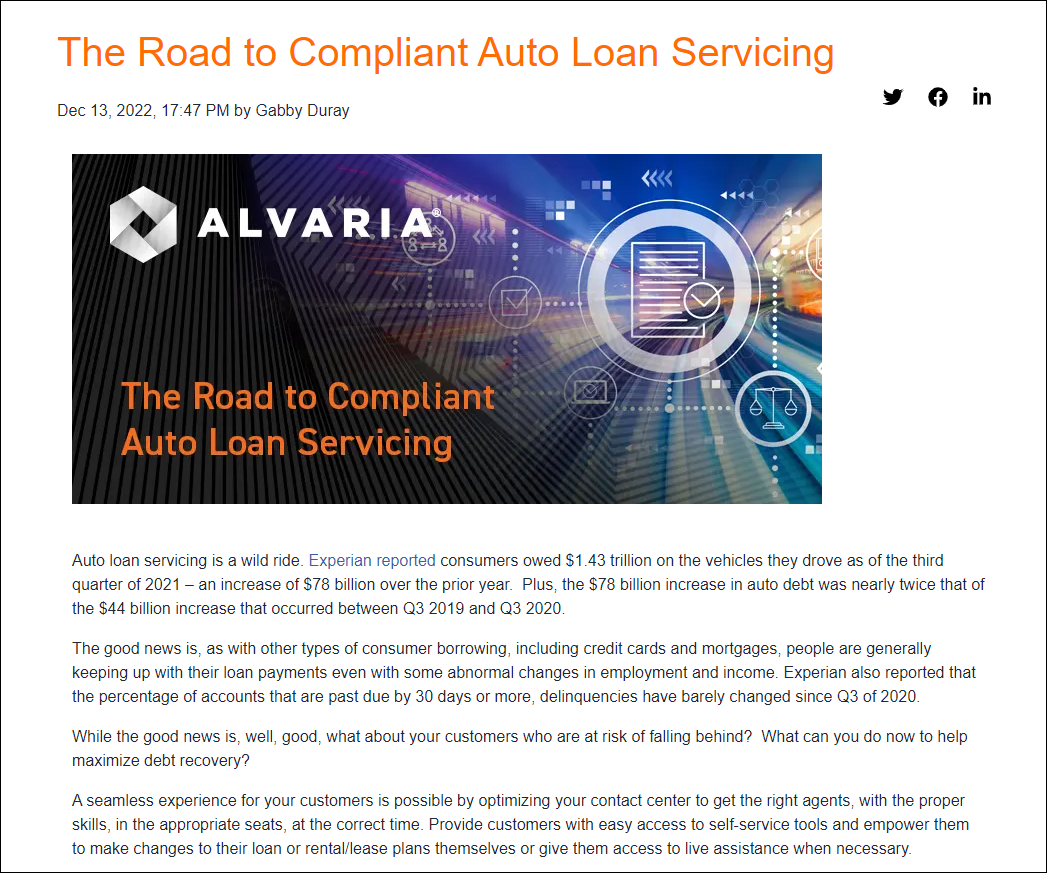 Auto loan servicing is a wild ride. Experian reported consumers owed $1.43 trillion on the vehicles they drove as of the third quarter of 2021 – an increase of $78 billion over the prior year. Plus, the $78 billion increase in auto debt was nearly twice that of the $44 billion increase that occurred between Q3 2019 and Q3 2020.
The good news is, as with other types of consumer borrowing, including credit cards and mortgages, people are generally keeping up with their loan payments even with some abnormal changes in employment and income. Experian also reported that the percentage of accounts that are past due by 30 days or more, delinquencies have barely changed since Q3 of 2020.
Optimizing your contact center to get the right agents, with the proper skills, in the appropriate seats, at the correct time will provide customers with easy access to self-service tools and empower them to make changes to their loan or rental/lease plans themselves or give them access to live assistance when necessary.
Read the blog to learn how workforce optimization, seamless multichannel experiences and self-service tools help reduce delinquency and provide positive customer experiences.
About Alvaria

Alvaria helps organizations efficiently manage and engage the modern workforce and connect compliantly with customers and prospects. Our open, innovative multi-platform is purpose built for two core competencies: a feature-rich, intuitive, and intelligent workforce engagement management platform, and a multi-channel proactive compliant outreach platform. Alvaria, the result of the merger of world leaders – Aspect Software and Noble Systems – is proudly celebrating 50 years in business reshaping customer and employee experience.