Sekure Merchant Solutions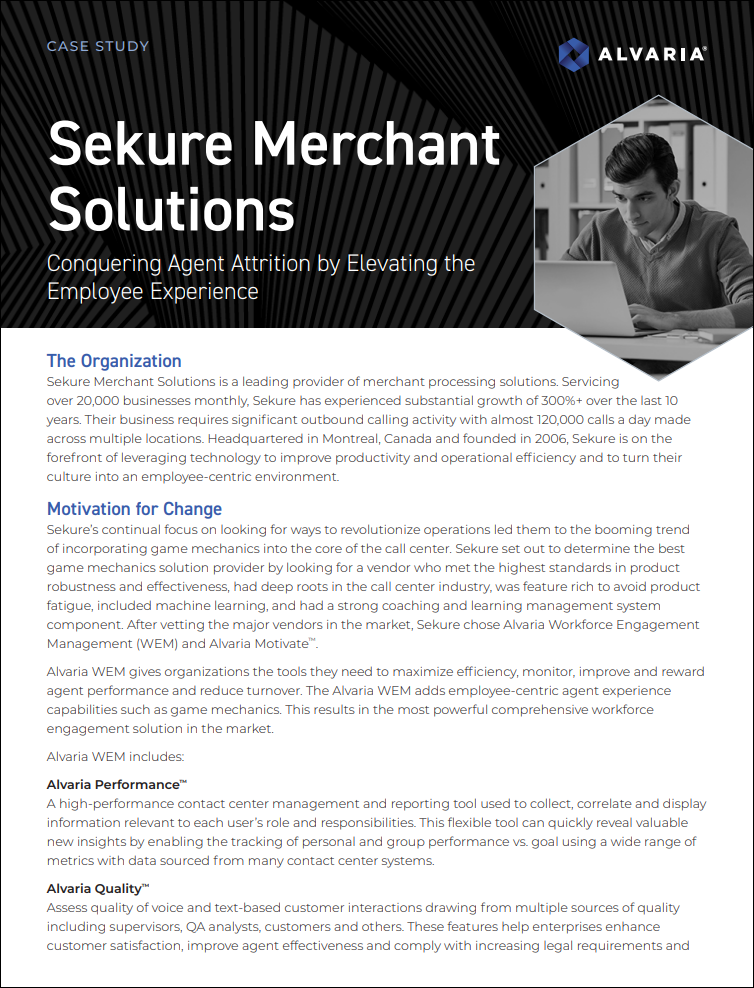 Conquering Agent Attrition by Elevating the Employee Experience
Sekure Merchant Solutions is a leading provider of merchant processing solutions. Servicing over 20,000 businesses monthly, Sekure has experienced substantial growth of 300%+ over the last 10 years. Their business requires significant outbound calling activity with almost 120,000 calls a day made across multiple locations. Headquartered in Montreal, Canada, and founded in 2006, Sekure is on the forefront of leveraging technology to improve productivity and operational efficiency and to turn their culture into an employee-centric environment.
Read on to learn how one organization leveraged game mechanics to creatively reduce employee attrition across the ever-changing generational spectrum and used those recouped savings to fuel their growth.
About Alvaria

Alvaria helps organizations efficiently manage and engage the modern workforce and connect compliantly with customers and prospects. Our open, innovative multi-platform is purpose built for two core competencies: a feature-rich, intuitive, and intelligent workforce engagement management platform, and a multi-channel proactive compliant outreach platform. Alvaria, the result of the merger of world leaders – Aspect Software and Noble Systems – is proudly celebrating 50 years in business reshaping customer and employee experience.