Reveal Hidden ROI with Customer Engagement Analytics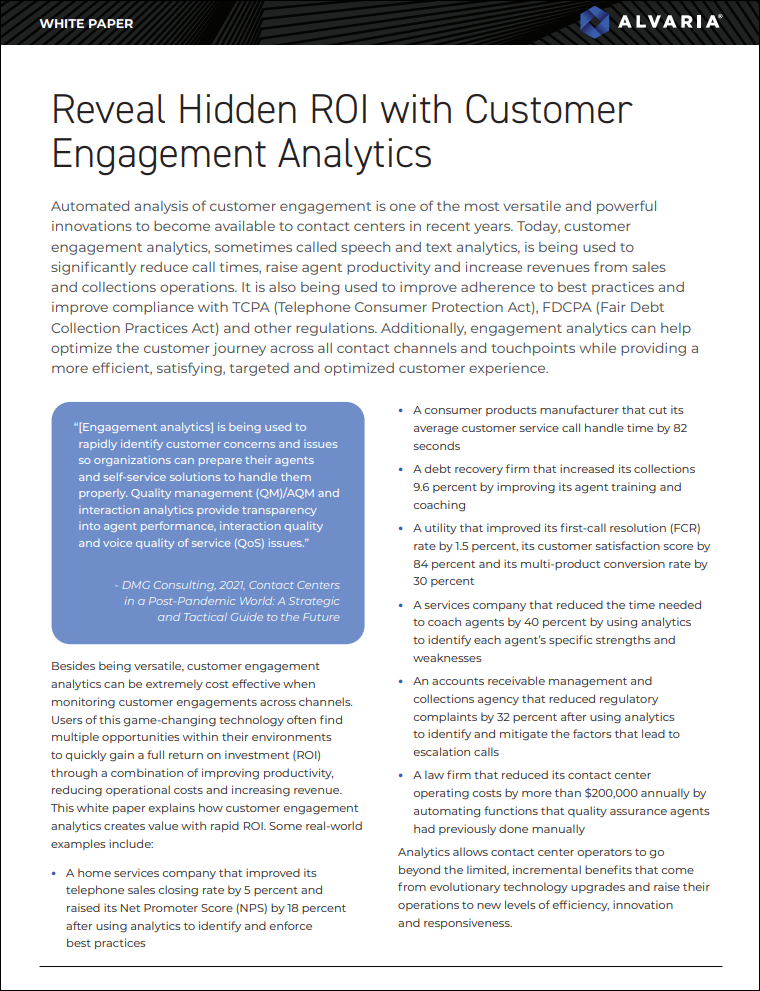 Automated analysis of customer engagement is one of the most versatile and powerful innovations to become available to contact centers in recent years. Today, customer engagement analytics, sometimes called speech and text analytics, is being used to significantly reduce call times, raise agent productivity and increase revenues from sales and collections operations. It is also being used to improve adherence to best practices and improve compliance with TCPA (Telephone Consumer Protection Act), FDCPA (Fair Debt Collection Practices Act) and other regulations. Additionally, engagement analytics can help optimize the customer journey across all contact channels and touchpoints while providing a more efficient, satisfying, targeted and optimized customer experience.
Download this whitepaper to better understand how this platform analyzes contact data to show companies potential areas for improvement.
About Alvaria

Alvaria helps organizations efficiently manage and engage the modern workforce and connect compliantly with customers and prospects. Our open, innovative multi-platform is purpose built for two core competencies: a feature-rich, intuitive, and intelligent workforce engagement management platform, and a multi-channel proactive compliant outreach platform. Alvaria, the result of the merger of world leaders – Aspect Software and Noble Systems – is proudly celebrating 50 years in business reshaping customer and employee experience.