Rationalize to modernize your martech stack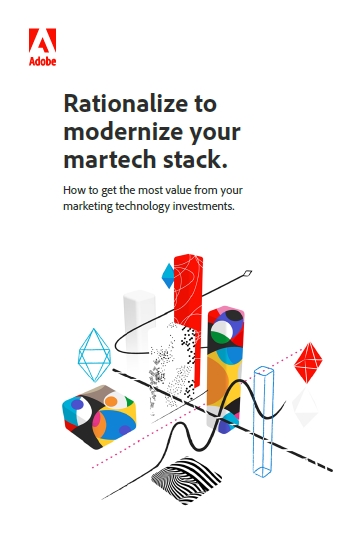 How to get the most value from your marketing technology investments
The pursuit of a comprehensive martech stack can, in many cases, result in a fragmented and patchwork set of technologies that are difficult to maintain and unable to address evolving business needs. As a result, organizations are faced with spiraling tech debt and a need to rationalize the number of technologies.
A recent Adobe architecture assessment of core martech building blocks across nearly 40 enterprise high-tech companies shows a strong trend toward standardizing on platforms from one vendor—having deployed three or more solutions from one platform.
High-tech organizations have made progress in rationalization, but there's more work to be done. Our analysis also reveals that 40% have eight or more vendors.
By standardizing on integrated platforms versus point solutions, organizations can reduce total cost of ownership (TCO) by 25-35 percent and increase speed to market by 30 percent.
"Clients want help, not change. However, you can't have one without the other when it comes to digital," says Shiv Paul, customer solutions at Adobe. "Change by its definition means disruption but with preparation, that level of disruption can be minimized. Intelligent organizations understand their success and survival in the digital landscape lies not solely in the technology they use, but in their willingness and ability to adapt elements of their environment to accommodate the coming change."