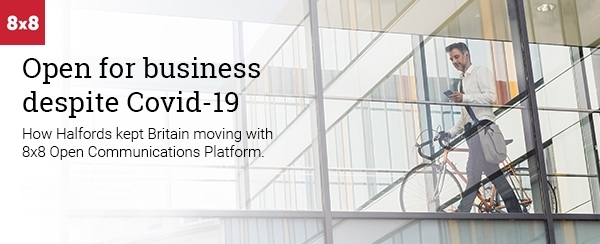 When Covid-19 hit, the UK public and countless vital service organisations needed the go-to brand for all things motor-and-cycle-related more than ever. That meant keeping almost 450 stores and auto centres open, despite the dangers.
Having deployed 8×8 Open Communications Platform shortly before the pandemic began, Halfords was able to do just that.
With a unified, cloud-based communications system across all outlets, Halfords employees were able to work remotely wherever possible, maximising safety while enabling easy, multi-channel collaboration between teams.
Meanwhile, 8×8's integrated contact centre technology allowed customer service teams to handle a 500% increase in calls and a 2500% upswing in web chat.
Discover how 8×8 Open Communications Platform is keeping companies open for business.