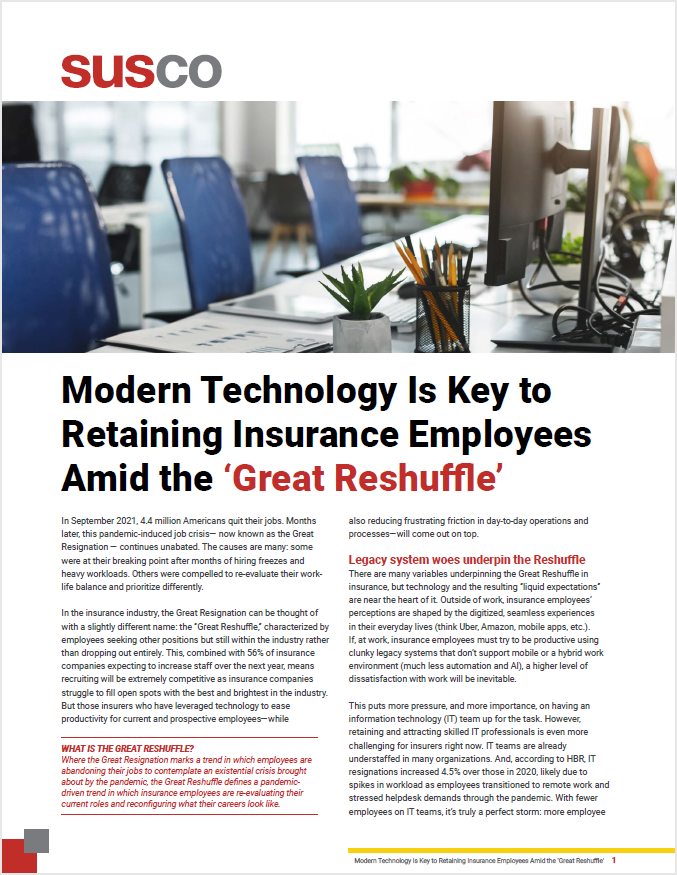 Request Your Free White Paper Now:
"Modern Technology Is Key to Retaining Insurance Employees Amid the 'Great Reshuffle'"
The "Great Reshuffle" is placing pressure on insurance companies to improve technology within and prevent their best employees moving on to other insurance organizations. It is important to re-evaluate legacy systems and find a partner that can help transform the workplace so that employees are empowered, productive, effective and invested in their jobs. Download this white paper to learn strategies for succeeding during the Great Reshuffle.
The Great Reshuffle is characterized by employees seeking other positions within the insurance industry rather than dropping out entirely. With 56% of insurance companies expecting to increase staff over the next year, recruiting will be extremely competitive as companies struggle to fill open spots with the best and brightest in the industry. But insurers who leverage technology to ease productivity for current and prospective employees will come out on top.
Download this white paper and learn strategies to succeed during the Great Reshuffle, including how to:
Understand the Great Reshuffle

Upgrade legacy systems to retain employees


Solve inefficiencies organization-wide with advanced technologies


Seek external help to ease the IT team's migration burden


And more…

Offered Free by: Susco