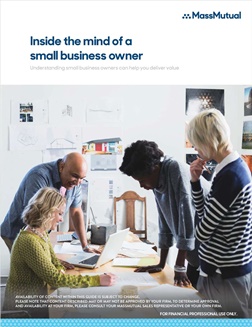 Request Your Free Study Now:
"Inside the Mind of a Small Business Owner"
Discover how understanding small business owners can help retirement advisors deliver value.
Your small business clients and prospects feel unprecedented pressure from the damage the pandemic continues to do to the economy. Now is a great time to show that you understand a small business owner's decision-making process and establish yourself as their MVP. You must demonstrate that you can service their business and their employees' unique needs, especially now.
Download this study now to get insights to help you serve small-business clients and prospects, including:
Knowledge gaps you should be aware of in your communications

A 4 step-strategy to help you increase your value with better engagement

Tactics to help them be more efficient and effective
Because small businesses owners wear many hats and are always looking to be smarter with their money, your expertise is crucial. Help owners navigate a continuous flow of conflicting demands so they can do what's best for their employees and bottom line.
Offered Free by: MassMutual