How E-signatures Can Accelerate Workplace Transformation for All Areas of Your Business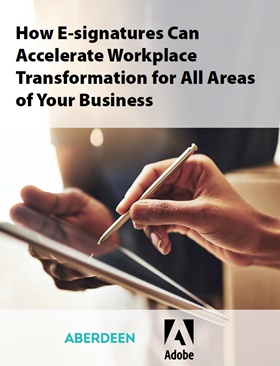 Now more than ever, businesses need to accelerate their digital transformation. As more employees are working remotely, in-person transactions—like signing documents—are difficult and slow down business processes.
Aberdeen has found that as businesses undergo this change, they are looking for new technologies that remove manual processes, ease automation, and enable nearly any task for remote workers. They also need these technologies to work seamlessly with their core Microsoft business applications, such as Microsoft 365, SharePoint, and Dynamics 365. A key technology that drives this kind of transformation is e-signatures.
When businesses turn to e-signatures across work areas, such as those outlined in this eBook, they put increased power in the hands of remote workers, boost the ROI of their current technology investments, and become more efficient and productive.