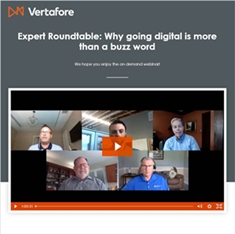 Request Your Free On-Demand Webinar Now:
"Expert Roundtable: Why Going Digital is More Than a Buzz Word"
Discover why modernization is vital to the future of your agency and how you can take your business digital.
"Going digital" is something that we've all heard many times in the insurance industry – and it's much more than a trend. By providing an exceptional digital experience for your clients, you can keep them satisfied and grow your business.
Watch this webinar for insights on going digital. Topics discussed include:
What a digital experience looks like in a successful agency

Why providing a digital experience for clients and staff is vital for business growth

How to provide exceptional service to keep your clients happy and meet them where they are

Why a digital experience allows you to refocus your efforts on clients

How to overcome common digital experience roadblocks
Offered Free by: Vertafore