Delivering Enterprise Value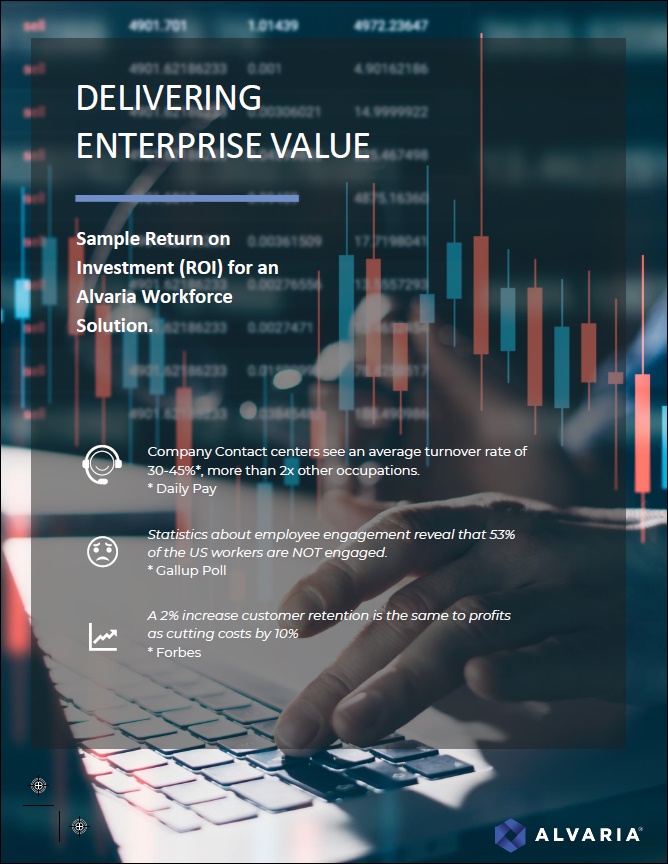 Sample Return on Investment (ROI) for an Alvaria Workforce Solution.
Maximizing contact center efficiency is critical to delivering great customer experience while minimizing operating costs. From precision volume forecasting to mobile schedule management, optimal seat utilization and beyond, Alvaria Workforce provides the solutions you need to ensure you have the right agents in place at the right time to deliver superior customer service.
Download this report which can give you a general idea of the type of savings/efficiencies available with Alvaria Workforce.
About Alvaria

Alvaria helps organizations efficiently manage and engage the modern workforce and connect compliantly with customers and prospects. Our open, innovative multi-platform is purpose built for two core competencies: a feature-rich, intuitive, and intelligent workforce engagement management platform, and a multi-channel proactive compliant outreach platform. Alvaria, the result of the merger of world leaders – Aspect Software and Noble Systems – is proudly celebrating 50 years in business reshaping customer and employee experience.