Analyzing 80 Billion Trade Records Daily Using AWS and Starburst Enterprise Presto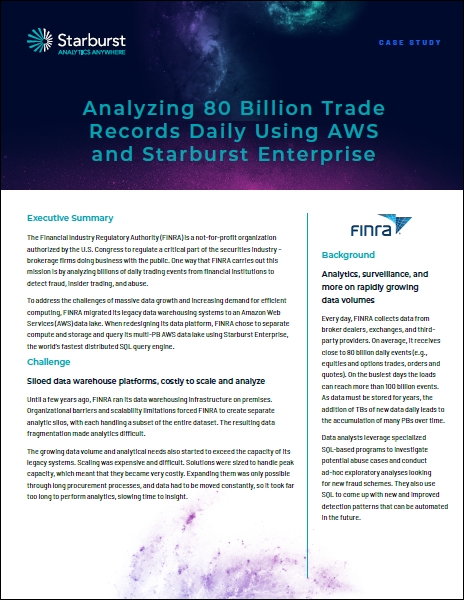 The Financial Industry Regulatory Authority (FINRA) is a not-for-profit organization authorized by the U.S. Congress to regulate a critical part of the securities industry – brokerage firms doing business with the public. One way that FINRA carries out this mission is by analyzing billions of daily trading events from financial institutions to detect fraud, insider trading, and abuse.
To address the challenges of massive data growth and increasing demand for efficient computing, FINRA migrated its legacy data warehousing systems to an Amazon Web Services (AWS) data lake. When redesigning its data platform, FINRA chose to separate compute and storage and query its multi-PB AWS data lake using Starburst Enterprise Presto, the world's fastest distributed SQL query engine.