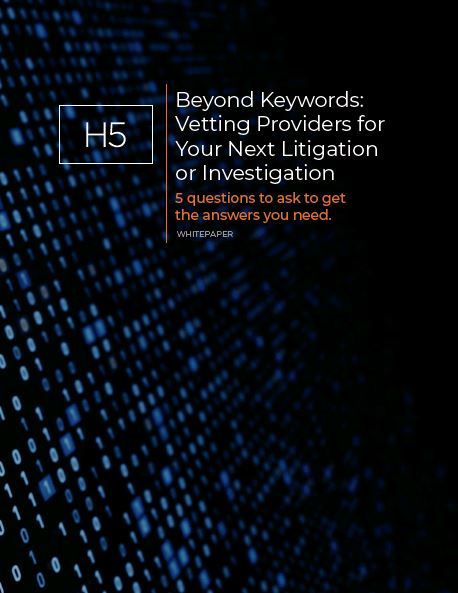 Request Your Free White Paper Now:
"5 Questions to Vet Providers for Your Next Investigation"
Finding critical facts within documents and data lies at the heart of any litigation or investigation. If you decide to go beyond DIY, these five questions will help confidently assess solution providers.
What is the best approach to finding those "hot" documents that support the narrative and can make or break a case? Keyword-based searches, analytics tools, and code-based searches work well for smaller matters. However, each has its drawbacks when large data volumes or topic complexities come into play.
Search expertise as a service can free your team to focus on case strategy instead of finding what you need. If you decide to go that route, it's important to understand the process and know what you're getting.
Download this white paper to aid your decision and make the best assessment of service providers. You'll get:
5 questions to ask to get the answers you need

Expert tips to aid each area of your assessments

Insights to help you make a confident decision
Offered Free by: H5