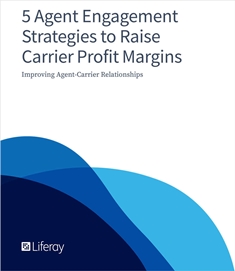 Request Your Free White Paper Now:
"5 Agent Engagement Strategies to Improve Agent-Carrier Relationships"
Discover five strategies to strengthen the agent-carrier relationship and increase profit margins.
It's no surprise that constant industry and market changes threaten the vitality of agent and carrier collaboration. A strong agent-carrier relationship reduces operational costs and complexity, improves sales productivity and increases profit margins. So what can insurance carriers do to nurture and grow agent loyalty and relationships?
Download this white paper now for five strategies to improve agent engagement. You will learn how to:
Empower agents to be a key contributor to the growth of the business with agent-friendly digital tools that make it easier to serve policyholders.

Provide digital marketing support to give agents the resources they need to balance new customer acquisition and cross-selling and optimize their online presence

Reward agents with different compensation frameworks and by providing better services and tools
Ensure you're preparing and equipping agents for the future and growth of the business now!
Offered Free by: Liferay, Inc.